By Dan Safran – Unbiased Consulting
The Unbiased Consulting team has deep experience effectively integrating and/or reconfiguring law firms across both "Practice of Law" and "Business of Law" – practice and operations.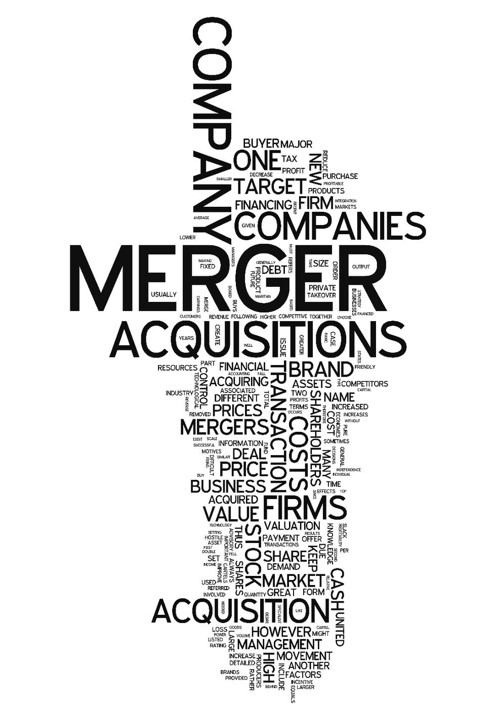 Law firm leaders do a great job defining objectives for combinations, articulating practice synergies, identifying opportunities for profitability enhancement and closing the deal(s). Nevertheless, as has been the case with mergers in all industries, too often, firms do not realize the full opportunities imagined. Too much time passes and too much money is spent – and most firms do not realize the full expectations of the combination.
Unbiased Consulting helps you to address profitability and cost management, develop and design integrated policies and processes, implement operational governance, define and implement optimal organization(s) and leverage best of class technologies and automation.
While legal strategy firms help you to define and plan law firm strategy, governance, compensation, and substantive law practice, Unbiased Consulting helps you successfully execute the plans to achieve your strategic goals.
Based on our experience, we have compiled a handful of key observations for consideration by any law firm leader considering or in the midst of a M&A transaction. The purpose of this document is to share some of our experiences – to begin the deeper conversation about how to make your particular transaction deliver the most value.
Law Firm Merger Integration Best Practices
Our recommendations for leaders tackling mergers and acquisition integrations include:
Establish a temporary planning team structure and assign a Business of Law "integration manager".
Rather than try to manage all integration issues centrally, we recommend setting up a distributed team structure to perform comparisons between the firms in each area, recommend a direction, and build a transition plan for any changes that must occur. The plan may range from selecting best practices from each firm or completely reconfiguring a function to better serve the needs of the combined organization.
This structure needs to include a designated executive body responsible for approving recommendations and communicating with the board, a designated "integration manager" to manage the overall effort and identified teams in each critical area of integration.
In a typical merger, a planning structure might be chartered as illustrated in the table below, which is not comprehensive:
Figure 1: Example Team Structure to Support Planning for a Law Firm Merger
| | | |
| --- | --- | --- |
| Team | Members | Representative or Typical Scope |
| Merger Steering Team | 3 to 5 members of the combined organization plus the identified "integration manager" and "integration manager team owners" | Review and approve recommendations from teams Set and manage overall direction and timeline for integration Make decisions on organization structure (with input) and other major issues that cannot be resolved in teams |
| Practice Business Development and Cross Selling | One team for each department consisting of leaders from those departments | Assess current state and make recommendations within each department for: Target client criteria Fee approach (rates, contingency vs. hourly, etc.) Business development approach Cross-selling opportunities and tracking progress |
| Practice Delivery | Practice Group Leaders | Assess current state and make recommendations within each department for: GoalsDelivery policies and practicesMatter teamsPractice and matter support |
| Accounting and Finance | CFO and Controllers from each firm; additional subject matter experts as required | Assess current state and make recommendations on: Goals Account structure, periods and accounting systems (including time and billing) Estimating and pricingClient billing policies and expense policies Overall combined budgets, including integration costs Invoicing and collections approach and cycles Payroll systems, cycles and policies Financial reportingBankingApproach to outside counsel guidelines |
| New Business Intake and Conflicts | Loss Prevention Counsel and CFO and Controllers from each firm; additional subject matter experts as required | Assess current state and make recommendations on: Risk profile GoalsConflicts rules and policiesConflicts clearance approach and processes, including engagement and waiver lettersReviews and approvalsBusiness intake processMatter opening processes and procedures |
| HR, Benefits, Recruiting and Training | HR leaders from each firm; additional subject matter experts as required | Assess current state and make recommendations on: Benefits plans and compensation structures HR policies (e.g., PTO, performance reviews, etc.) Recruiting policies and processes (internships, systems) Training approach |
| Facilities | Chief operating officers from each firm; Office managers from each office | Assess current state and make recommendations on: Office space plans, occupancies and lease arrangements Facilities-related vendors and vendor contracts Facilities policies (supplies, etc.) Workplace "look and feel" and approach to standardizations Office access policies, physical security, and parking |
| Information Technology | CIOs of each firm IT Directors from each firm; Additional subject matter experts as required | Assess current state and make recommendations on: Application strategy/direction Infrastructure and data architecture consolidation modelDesktop tools, strategy and help desk approach Infrastructure, data and disaster recover policies Initial decisions on financial systems, time entry, invoicing, collections, DMS, KM, BC/DR, NBI/conflicts, contracts, docket, other collaboration systems |
| Marketing and Brand | CMO/Marketing directors from each firm; Practice representatives Additional subject matter experts as required | Assess current state and make recommendations on: Combined firm positioning/branding in the market Signage/signage transition plans Internet presence Firm brand standards Note: May also support overall communications regarding the combination to clients, vendors, internal audiences, and the media |
There are several possible variations to the structure above which can be considered. A short working session with senior leaders can typically address potential alternatives and finalize a structure right for any specific merger situation. In any case, there are a few best practices associated with this approach. They include:
Assign a single coordinator for each identified team. This does not necessarily imply that the leader for various functional areas needs to be identified in advance of a team starting work, but it can be helpful to have organization decisions at the highest level completed.
Provide teams with a common process and templates. Unbiased Consulting's approach asks teams to define the end-state direction first (in the form of recommendations for approval) followed by the building of detailed plans for transition.
Wherever possible, provide teams guidance by sharing confirmed business decisions with them upfront in the planning process. Any definitive statements (e.g., we will move toward a consistent benefits platform, we will adopt Firm x's practices in these five areas, we will not make any office moves until the next fiscal year) that can simplify decision making will be helpful in accelerating progress.
Define a set of "Law Firm Guiding Principles" and define "Practice and Business Operations Integration Complete."
Unbiased Consulting has found it extremely beneficial for the combined board of merging firms to spend time defining the strategy for integration. Two techniques that we have specifically found helpful are a set of "Guiding Principles" and a definition of what constitutes "Integration Complete."
Guiding Principles are a set of agreed statements that help define priorities for the combination. At the highest level, Guiding Principles can help ensure time is not wasted on the more trivial issues that always arise during firm combinations (e.g., do we standardize coffee machines in each office location?) at the expense of the more critical issues that truly impact a firm's success (e.g., what process do we use to identify and address conflicts going forward?). A sample set of Guiding Principles is shown in the diagram below:
Figure 2: Example Business of Law Guiding Principles for a Merger
Integrate from outside in.
We will focus first on five elements of the combination that have immediate impact and benefits to existing and prospective clients and then address those items that impact efficiencies and internal policies.
Any decision is usually better than no decision.
We recognize that our success depends on clear direction and wherever possible we will make decisions quickly, valuing clarity over the need to be 100% correct.
Demonstrate respect for people.
We will do our best to communicate candidly about expected changes in how we operate, especially when they impact our attorneys, associates and employees
In addition to a clearly communicated set of Guiding Principles, Unbiased Consulting believes there is benefit in discussing a list of conditions that will bound the integration – that is, those things we need to accomplish in order to call the integration of the two firms complete. This provides two major benefits. First, it helps the organization ensure that integration is prioritized over optimization. In too many mergers, people begin to completely rebuild processes from the ground up rather than choosing one of the approaches currently in use and standardizing on that approach. Second, it helps the combined leadership agree on the key priorities for integration of the firms (e.g., is standardizing office look and feel really an integration item or is that something that is lower priority and can be handled over time after integration is complete?).
As an example, a discussion of Integration Complete, might yield statements such as:
Our legal practices will be integrated upon…
….Our lawyers have met eachother and shared experience and expertise
….Our lawyers have been assigned to various practice groups
….X matters involve lawyers from both legacy firms
Our business operations will be integrated when….
…. The administrative organizational structure, roles and responsibilities for all employees has been determined and communicated
…. We are operating on one network, email system and time and billing system across the firm
…. All physical office space has been consolidated and we are realizing savings from our space plan
As a best practice, we recommend that no more than 10 to 15 such statements be identified and tracked through to completion of the integration effort.
Address culture and issues head on.
Culture clashes are often blamed for merger failures. The truth (despite much of the writing on the topic) is that culture issues are not as complicated as some would have you believe. The key in our experience is to identify a handful of shared beliefs and then break culture down into those elements of the business that drive what people call "culture." Once that is done, operations executives can discuss what specific behaviors or observable traits they want in each area for the combined firm.
Take a holistic approach.
Often, law firms will focus on a particular area and lose the forest for the trees. For instance, we have seen firm's integrate new technologies but not consider people and training. Other times they implement policy changes without thinking about the implications of supporting processes and compliance programs.
Figure 3: Holistic Context for Merger Planning
A holistic approach requires an understanding of the intertwined relationships between people, process and technology. Our integration planning and execution methodology contemplates all aspects, but all within the context of business goals and objectives and guiding principles.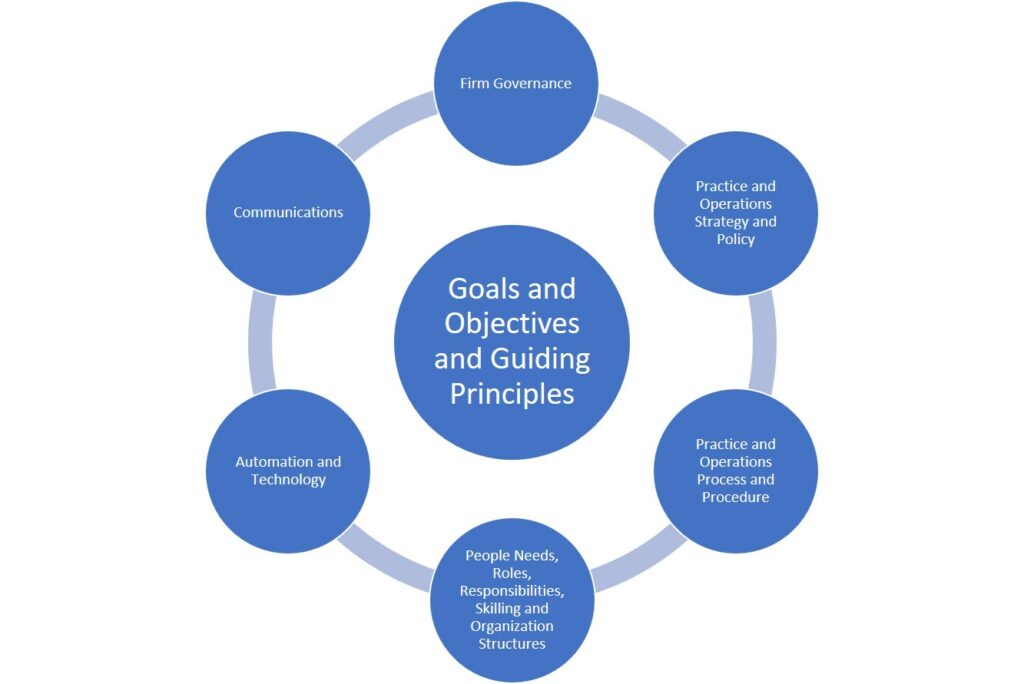 `Conclusion
In conclusion, law firm mergers can quickly become complex and difficult to manage. In addition, most of the time it takes too much time and too much money if, and when the firms achieve the originally desired results.
Unbiased Consulting's proven approach streamlines the process for decision making and integration and ensures the value of the deal is fully captured, costly retention issues are avoided, and distractions from client delivery are minimized.