By Mike Lowe and Dan Safran – Unbiased Consulting
Unbiased Consulting's law firm clients often think that implementation of new or or updated New Business or Client Intake / Conflicts software will solve their needs to reduce risk, speed matter openings, better align work to practice and/or firm goals, and improve profitability.

The truth is that none of this occurs with the implementation of new software, rather, it is the policies, ethical, business and financial risk reviews, conflicts clearance, engagement and waiver letter processing, matter opening and related processes, the resourcing and skilling of the business intake, conflicts and lateral team members and organizational model, that makes the difference. The technology and automation is there to support the policies and processes performed by the team members.
Our team has assisted 1,000 law firm clients reduce risk, increase profits, reduce costs and gain greater operating efficiencies, in areas including customized improvements to law firm new matter opening processes, people and automation. We touch all component parts of business intake and conflicts including strategy and tie to the firm's strategic plan, policy, process/best practice, organization and skilling and, of course, technology.
Scope of New Business Intake / Conflicts
Below is what our team typically sees as typical scope of the business intake and conflicts functions within law firms. Business intake starts with the identification of potential prospects and client opportunities. Data is captured by the team resources, based on the defined policies and procedures relative to either a preliminary search or a full conflicts search. If no conflict is identified, then review processes ensue, to address potential ethical or business conflicts of interests issues, including financial reviews and anti-money laundering / know-your-client reviews and other internal reviews. If a client / matter is found to be appropriate for continuing action, engagement letter processing starts along with scoping, estimating and pricing of work to support the engagement letter or statement of work. If the business and financial aspects of the work and deal pass muster, then the matter is approved and opened for time capture (some firms will start capture earlier). The information captured also often feeds downstream systems such as ethical walls tracking, document management and other systems.

Improving Profits
Our approach is to drive profit improvements, focused on onboarding as much business as possible, but with leveraged risk. Business benefits driven from our business intake and conflicts work include: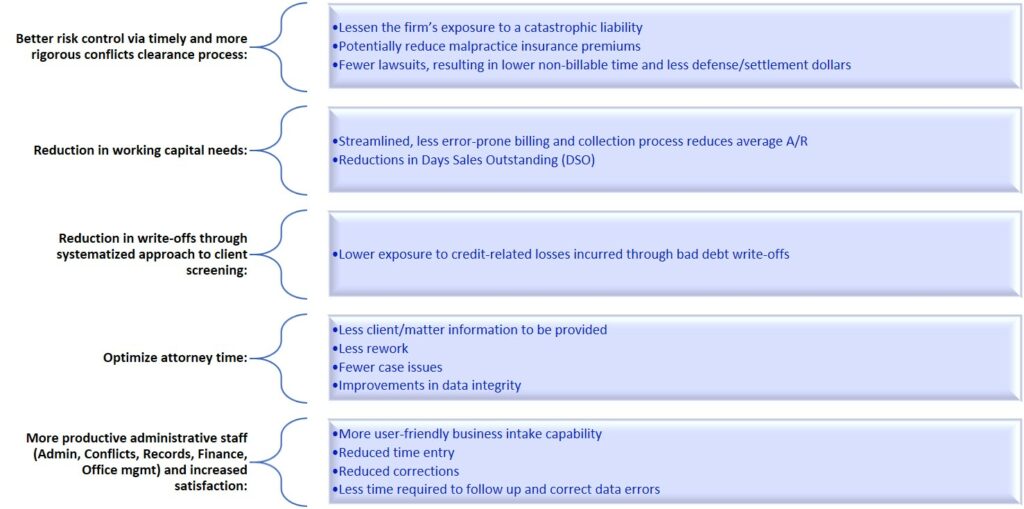 How Unbiased Consulting Can Help
In order to help law firms achieve the goals listed above, Unbiased Consulting provides a variety of services for our law firm clients, including:
NBI/conflicts functional knowledge and advisory
Re-design NBI strategy, policy, process, organization and technology
Design NBI/conflicts forms, workflows, approvals routing and reporting (including Intapp Open)
Program/project management along with change management