Unbiased Consulting's  Dan Safran will lead Withum's Summer Virtual Law Firm Leadership Roundtable session on "Meaningful Innovation for Law Firms". This event, co-sponsored by Unbiased Consulting and Thomson Reuters, provides Law Firm Managing Partners and Senior Leadership, with differentiating, value-laden ideas and perspectives, enhanced by knowledge sharing among law firm leadership peers. Dan's presentation and interactive session focuses on Unbiased Consulting's proprietary concepts of "Active" vs. "Proactive" Innovation, sharing the methodology, examples, and "how-to's", helping law firms innovate in new and different ways.
"Active Innovation" = Delivery of traditional services to support clients and law firm revenue generators more efficiently and productively.
"Proactive Innovation" = Delivery of existing or new services to law firm clients in unique or new ways.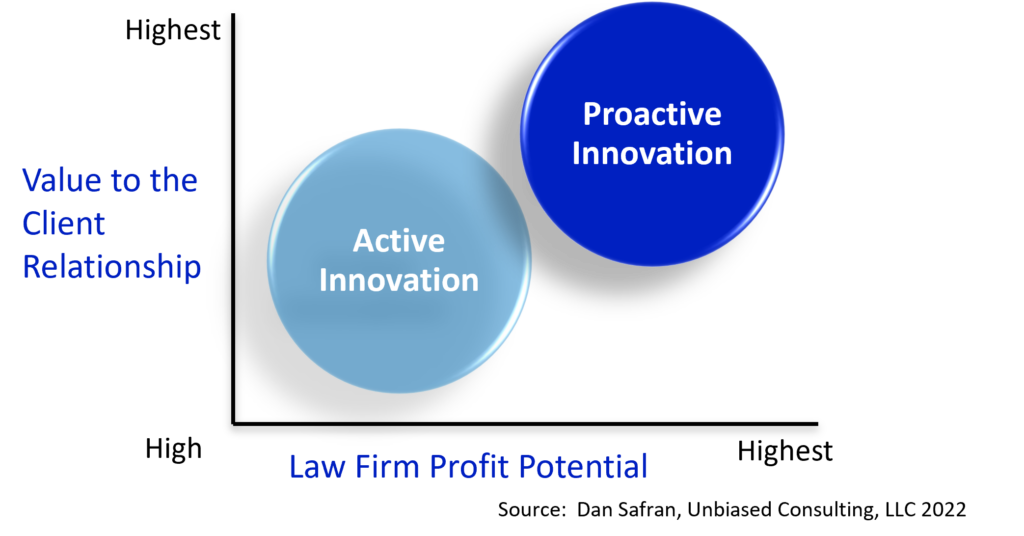 Dan has worked with 700 law firms during his almost 40 years of legal market service and is noted for his practical, executable advice and solutions to Unbiased Consulting's many legal market clients.
Click here to find out more about Unbiased Consulting's Innovation related services.
As a law firm managing partner, feel free to sign up for this no-cost, 2-hour roundtable. Stay tuned for more details on the late fall, in-person event.
Summer Virtual Law Firm Leadership Roundtable
Driving Success Through Culture & Innovation


Join us for the next Virtual Roundtable in our Law Firm Leadership Roundtables series. This program will consist of two informative presentation sessions, each followed by robust, facilitated breakout discussions among members, led by Withum's Law Firm Advisory team leaders and our guest faculty.

Alongside Marci Taylor and Bill Sansone of Withum's Law Firm Advisory Team, Dan Safran of Unbiased Consulting and Bill Josten of Thomson Reuters Institute return as presenters for this summer's program.

Program Sessions Culture As Strategy:
Often relegated to an afterthought in years past, building and maintaining an exceptional firm culture is the leading strategy driver in today's market. What are leading firms doing to create a healthy culture and utilize it as an asset for both clients and talent? In this session, we will discuss industry-leaders in firm culture and identify practical steps you can implement at your firm to win the war for talent and thrive going forward.

Meaningful Innovation: How can your firm best innovate in these changing times? Dan Safran of Unbiased Consulting will lead this discussion, exploring how firms are leveraging new processes and structures to improve delivery performance; pursuing new technology to improve efficiencies and drive client loyalty; redefining support service models; and repositioning service offerings to change buyer behavior.

Registration We invite you to learn more about the event and register today to reserve your seat at the roundtable.
Unbiased Consulting's team is comprised of experienced industry experts who are former law firm operations professionals, practicing lawyers, legal market and professional services consultants, COO's, CIOs/technology experts, CAO's, etc. Our team members work with our clients to drive efficiency, productivity, innovation, transformation and cost reduction.